Christmas as we know it today, starring Santa Claus and Christmas trees and carols and gifts exchanged on Christmas Eve or Christmas Day was not practiced in Greece until the 80s, when American culture started becoming fashionable in the country. Although by now Greeks celebrate those Christmas traditions in full swing, throughout the country they remain loyal to their own folk traditions, that are often tied to deep religious and cultural symbolism. Here we take a look at some Christmas traditions still practiced nationwide.
The Christ-bread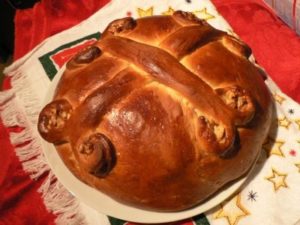 Throughout the land, the Christ-bread, known as Christopsomo, which like Tsoureki at Easter is a little sweet and savoury at once, is a circular leavened bread made on Christmas Eve with flour, nuts, sesame seeds and sometimes dried fruits like raisins or figs. Before being baked the sign of the cross is carved over its surface, sometimes together with artful designs, and the following day it is used to decorate the table and served as a symbol of holy communion.
According to Cretan tradition, the Christ-bread is made with the best of ingredients and with great care – fine flour, rosewater, honey, sesame and cloves, and as the bread is being kneaded the women says "Christ is being born, the light is rising, the yeast is flourishing". The bread is decorated with the cross as well as other designs like roses, leaves and fruits and a walnut is placed in its centre.

You say Turkey, I say Pork
Although Greeks today often choose to prepare a turkey dinner similar to those served in the US or England, the original choice of meat, which continues to be eaten in rural parts of the country, is pork, which has remained the staple Christmas main, especially because in rural Greece the heirosfageia (pig slaughter) in winter. Almost every segment of the animal is used to make sausages, dolmades, cold cuts and meat pies, or to be stored for later consumption. Today, pork is usually served roasted with prunes, orange, red wine sauce, and vegetables.

Christmas cookies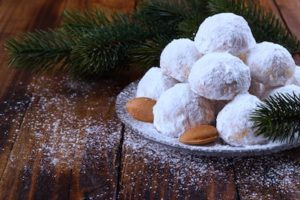 If you are anywhere in Greece during Christmastime you can't fail to notice bakeries have huge mounds of two types of seasonal cookies, the kourabiedes, which look like little snowballs because they are rolled in powdered sugar, and melomakarona, made with a honey syrup. Many households are well stocked with these moreish cookies for family members and guests to indulge in throughout the Christmas season.
Beware of the Kalikantzaroi!
According to folklore, the hairy, ugly and malevolant Kalikantzaroi are creatres who live underground and enter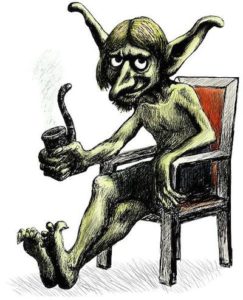 households during the Christmas period to cause trouble. People would keep the yule log burning in their fireplaces for 12 days so that they couldn't enter their homes, and some would even thow old shoes into the fire to create a malodorous method to keep them at bay.

Christmas wreath
A very attractive tradition is to create a wreath out of pine branches and decorated with berries and decorations. Apart from adding seasonal charm it is thought to bring good luck to the family.
The Marriage of Fire
In villages in Edessa the "marriage of fire" ritual takes place when the wood from a tree with a male name such as "pefko" (pine and the wood from a tree with a female name such as "kerasia" (cherry tree) and burn them together in the fireplace. As the fire burns, the type of flame they create is interpreted as a prediction of the following year's events, from the weather to how their crops will yield. Some use thorny trees so that they can also keep away the Kalikanzaroi.
Oak for Light
In Arta and Ioannina an old Christmas tradition is that locals gather holding lit oak branches and walk through their village visiting other residents as a symbol of bringing spiritual light.

End of Year Wishes
In Giannena neighbours will visit each other holding a handful of bay leaves. Upon entering the house they throw the leaves into the fireplace and wish for "lambs, goats, brides and grooms!"
Feeding the Fountain
Many villages in Thessaly practice the age-old tradition in which girks wake up at the crack of dawn and head to the village fountain to steal the 'silent water' (named thus because they are not allowed to speak after gathering it). The girls run to the fountain as it is believed that first girl to arrive at the fountain will be be the luckiest. Once there, they throw a blackberry and three pebbles into their pitcher and return home, where they sprinkle the 'sweet' water in the four corners of the house.
Did you know that our publication Greek for you A1, Step 22, Page 181, you can read about Greek Christmas traditions.