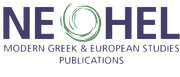 ABOUT US
NEOHEL is a private research / teaching centre for Greek as a second / foreign language, operating since 1967. Since then NEOHEL has published books, audio and interactive material of Greek as a second / foreign language.
NEOHEL is also involved in the organisation of seminars in regard to the Greek language and culture. It has participated as coordinator of the ERASMUS + programme of the European Commission (ex SOCRATES and LINGUA) in order to promote Greek, one of the least spoken EU languages.
Who to contact regarding your personal data
Our Data Protection Manager looks after data protection and is happy to answer any questions about this privacy notice and how NEOHEL uses your data. We can be contacted directly at [email protected] or on +(30) 210 6198903 (ex. 229).
The personal data we collect and process
The main ways we process the personal data you provide, as we try to keep this information accurate and up to date are the following:
When you purchase from our e-shop
We collect the following data in order to process your order: first name, last name, address, mobile number, and email address. If the order is for a digital product (e-book), we do not require your physical address.
This personal data will be only used for in order to expedite the products and services you have ordered from us
NEOHEL will not pass on your personal data to any third parties without your consent, unless the law requires us to do so. We do not transfer to non-EU countries that do not have adequate protection. We do not provide any personal data to our suppliers.
To send you communications in case we have your consent
We send you the following communications:
To inform you via email about NEOHEL's activities, i.e. notification of changes in policies or procedures.
To disseminate information regarding our educational publications (new books that complete our existing series or brand-new books that match your criteria), related services, and/or upcoming events that might interest you.
The personal data that we process for this service is name, address, email (and mobile phone number).
We would like you to enjoy these communications, so it is important to note that consent can be withdrawn at any time by:
Clicking the 'Unsubscribe' link in any communications email.
Contacting as at [email protected]
When you use our website https://www.neohel.com
We use cookies, which are small text files that are placed on your computer when you visit our website. We do this to make our website work more efficiently and to promote our news and services on social media. Visit www.neohel.com to manage your cookie settings and view more information on how we use them and why.
NEOHEL uses a third-party service to help maintain the security and performance of our website. To deliver this service, NEOHEL processes the IP addresses (a number assigned to each of your devices connected to the internet by your broadband provider) of visitors to www.neohel.com
We provide contact forms on our website and collect the users' personal information to help them complete certain tasks. Each form details the information required and an explanation of what the form is for. For general enquiries, once an enquiry has been dealt with, the data is deleted in line with NEOHEL procedures.
Disclosure of personal data to our service providers
We may pass on your personal data to service providers contracted to NEOHEL in the course of dealing with you. They act as a data processor on our behalf and are obliged under contract to keep your details securely, and only use them to fulfil the services they provide on our behalf. When they no longer need your data to fulfil this service, they dispose of the details.
How long do we process your data for?
NEOHEL is required to retain information in accordance with the law, such as information needed for income tax and audit purposes.
Your rights as a data subject
At any point, while we are in possession of or processing your personal data, you the data subject, have the following rights:
Right of access – you have the right to request a copy of the information that we hold about you.
You can do that by visiting [email protected] or by calling + (30) 210 6198903 (ex. 229) If we do hold information about you we will:
give you a description of it;
tell you why we are holding it;
tell you who it could be disclosed to; and
let you have a copy of the information in an intelligible form.
Please note that, in order for you to exercise your right of access, you will need to provide proof of identity – passport, driving licence or birth certificate – and that you need to be at least 18 years old.
Right of rectification – you have a right to correct data that we hold about you that is inaccurate or incomplete.
Right to be forgotten – in certain circumstances you can ask for the data we hold about you to be erased from our records.
Right to restriction of processing – where certain conditions apply to have a right to restrict the processing.
Right of date portability – you have the right to have the data we hold about you transferred to another organisation.
Right to object – you have the right to object to certain types of processing such as direct marketing.
Right to object to automated processing, including profiling – you also have the right to be subject to the legal effects of automated processing or profiling.
Right to judicial review – in the event that NEOHEL refuses your request under rights of access, we will provide you with a reason as to why. You have the right to complain as outlined below.
Complaints
We are here to help with any concerns you may have. Please do contact the Data Protection Manager at [email protected] or + (30) 210 6198903 (ex. 229)
If you are still not happy with how your personal data is being processed by us or how your complaint has been handled, you also have the right to lodge a complaint directly with the Information Commissioners Office of your respective country.