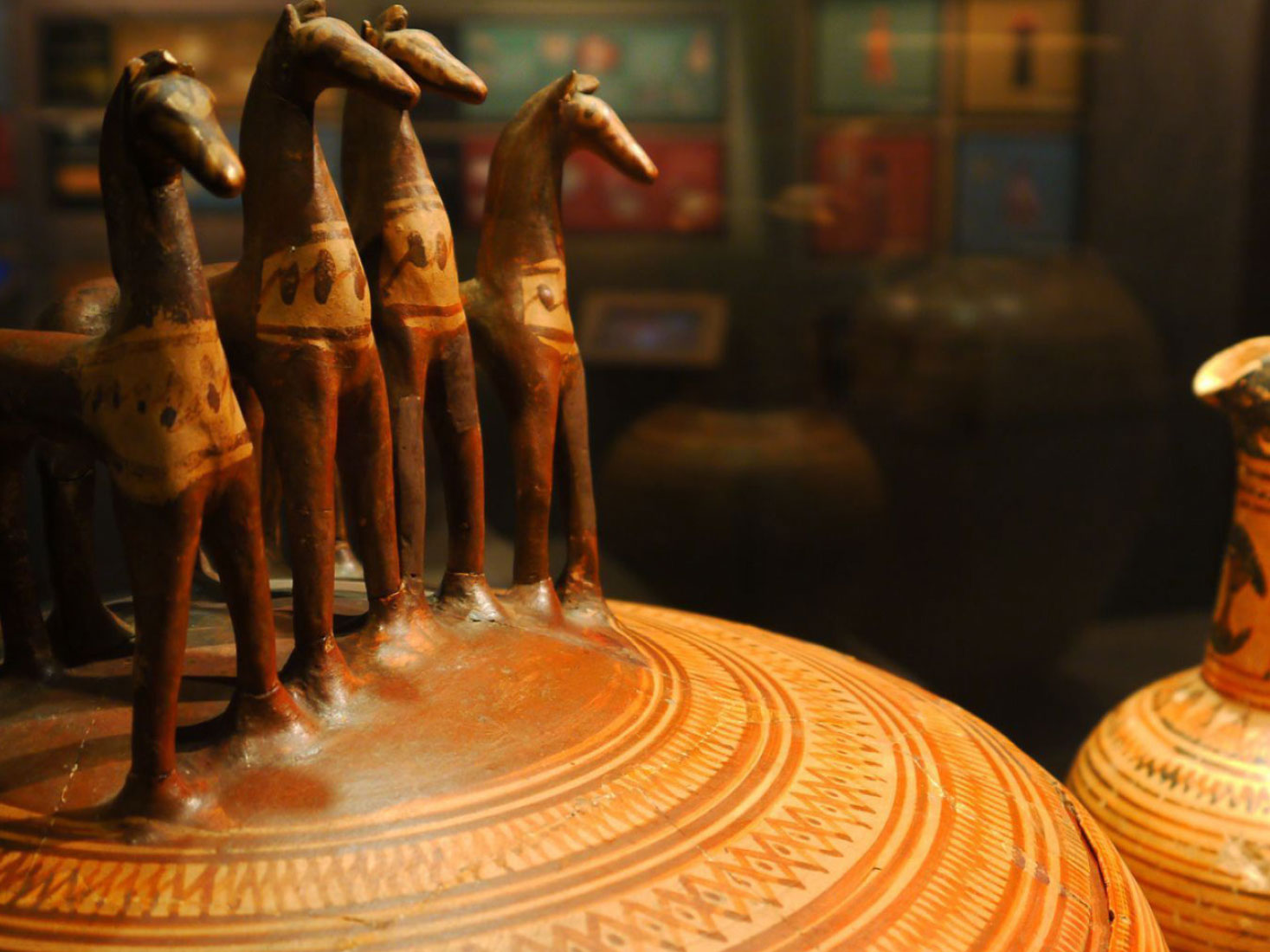 Area 3.1
Three stories with the Museumheroes: from the Cycladic, Minoan & Mycenean art
For children 5 to 12
Museums close to children.
Bilingual stories with Museum Heroes
(Greek English)
The Museum Heroes of bilingual stories jump from their pedestals and escape from the Museum windows to become stars in the imaginative stories of Mania Douka.
Museum heroes from the Mycenaean, the Cycladic, the Minoan civilization, etc., who are kept in Greek and international Museums, come to life unexpectedly.
The Mycenaean ornate sword, the golden mask, the Mycenaean noblewoman, the prince with the lilies, the golden seal stones, the Cycladic figurines and many other works of art are protagonists in the bilingual stories.
The clay flywheel, that had been stuck for many years in the grandmother's rocket, makes its revolution by escaping from the open window and flying away. Finally freed, he breaks into children's homes and tells them the stories of the Museum Heroes, which he had heard and learnt from the grandmother all those years.
Objectives
Mania Douka and Evangelia Georgantzi decided to make available the bilingual stories, which are addressed to both Greek and English-speaking children, by digitizing them and creating activities (Brochure for printing) which aim that the children:
– get to know the Greek culture while developing their aesthetics through works of art
– practice the Greek language, enriching their vocabulary with new words and expressions
– develop their imagination and artistic tendencies, playing the roles of Museum Heroes and illustrating them
– get into the meaning of the texts and consolidate structures of the Greek language through the parallel bilingual texts but also the audio material that accompanies them (especially the English-speaking children)
– increase their knowledge of the English language (especially Greek-speaking children who learn English) but also challenge their minds with the game of understanding stories.
Bilingual stories are in Kindle
They are written in two languages: Greek – English in parallel texts.
Downloaded and read on PC, tablet and mobile.
They have audio material dramatized by actors.
They have a brochure with activities and their solutions for printing.